Perth International Cabaret Festival (PICF) is WA's first dedicated cabaret festival, honouring the great tradition of storytelling set to music. The inaugural Festival founded by Ali Welburn and Graham Lovelock, was held from 19 – 27 June 2021 at His Majesty's Theatre, Perth. The Festival engaged artists from diverse cultures, genders and ages to create a rich, multi-cultural, intergenerational celebration.
Co-founder, Ali Welburn writes about her experience working with Culture Counts in evaluating the inaugural impact of PICF.
Until 2021, Perth was the only major city in Australia not to have its own dedicated cabaret festival. And, while some states have had them intermittently, WA has never had one. Graham Lovelock and I were thrilled to deliver a brand new and exciting addition to Perth's arts, culture and storytelling landscape.
After having to cancel our planned 2020 season debut, 2021 saw the inaugural Perth International Cabaret Festival (PICF) burst onto the stages of the stunningly refurbished His Majesty's Theatre. Activating all available spaces within the building, including the Main Auditorium, Downstairs at the Maj and the Dress Circle Bar; the much-loved jewel of Perth theatre became a thriving hub for everything dedicated to cabaret, warming up Perth's winter nights as never seen before.
Requirements
Naturally, in our inaugural year (2021) it was also imperative that the festival was able to gather some real data that captured what anecdotally we could see on the ground during festival week. We knew people were loving the festival concept and then ultimately what we delivered, but to have the statistics, feedback and metrics to back that up was going to be vital in going forward in conversations with sponsors, funding bodies, donors, artists and our club cabaret members. It was also important for us to get real feedback from our audiences and artists as to whether our festival concept was landing as we hoped it would.
"This level of feedback means that we can now talk with authority to funding bodies, sponsors and other supporters about the festival and what it has and can achieve. These figures open doors and allow us to navigate into different opportunities."
Ali Welburn, Perth International Cabaret Festival
Read report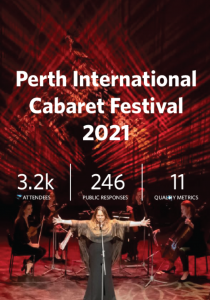 Approach
To understand the way by which the festival contributes to Perth's wider social and cultural ecology, Culture Counts recommended PICF to capture a range of audience feedback, identifying the unique and varied cultural, social, civic, environmental, economic and qualitative outcomes the festival achieved.
In meeting the evaluation requirements, Business Development Director, Jordan Gibbs and Client Manager, Laura Doyle proposed the following methodology:
Strategic Alignment to identify the outcome areas and stakeholder requirements in creating an evaluation framework specific to PICF
Evaluation Planning to match out the data collection strategy across the program. This ensures reporting displays the complex range of benefits and impacts of the program
Capturing artists and audience feedback using the Culture Counts Evaluation Platform
Economic Impact Analysis to capture the local expenditure generated by event attendance
Online Insights Report to summarise the impact results including cultural, social and economic impact
As a new festival, it was identified that the survey sample was smaller than what was desired and there was a need to create surveying as a habit with the festival's audiences. To capture a more diverse demographic, it was suggested that future evaluations conduct a mixture of online surveys for every performance and fieldwork where possible.
Outcome
"We presented the final survey report to our Club Cabaret Members in November who enthusiastically agreed that the response outcomes matched what they had experienced as audience members.
We were heartened to see from responses that the festival had indeed landed as we hoped (in fact exceeded our wildest expectations), with some highlights being:
Of the 3,200 people who attended, almost the entire sample of respondents (98%) reported having a positive overall experience; an outstanding result.
Our "Net Promotor Score" of 73 shows an outstanding level of visitor loyalty and a very high likelihood of recommendations to friends and colleagues
Our artists felt supported, with an overall experience score of 100%
It must be noted that more than half of our artists responded to their survey (designed as an internal measuring tool for personnel satisfaction). This was important for us to also understand if our artists and creative team felt supported before and during the festival, especially when it came to navigating the COVID-19 challenges as they presented.
A component of our festival that we are incredibly proud of and committed to providing annually is the PICF Community Involvement Program; which we are developing as a "FREE" community opportunity to increase accessibility to our festival for all people. This program provides a range of options for the general public to attend free masterclasses, artist talks, show performances and Q & A panel sessions during the festival period.
In addition to the glowing feedback and excellent positive response numbers as received throughout the surveys, it was probably this one open-ended response that has underscored our drive to be relevant and accessible for everyone in the WA community (and is a response we use frequently):"
"I wanted to thank you all for hosting 'Noongar Language Singing Class' today. It was a really incredible workshop. Ms Williams and Mr Ghouse were so kind, informative, and I loved learning with so many lovely other people. I'm on a disability pension, so it can be hard to stay involved in the Perth Arts scene. Free workshops like this are such a lovely thing for me. It means a lot. I'm going to the other two workshops the Cabaret Festival is holding. But yes, just wanted to tell you all how lucky I feel to have seen this, and thank you all again." – Respondent
"As always, the team at Culture Counts were a dream to work with and we would especially like to thank the attention, guidance and advice from Laura and Jordan."
Image Attribution: Tomás Ford, Perth International Cabaret Festival, 2021. Photo by Vanessa Cooper.