One of the unique selling points of the Culture Counts Evaluation Platform is our dimension statements.
We understand and have taken the time to delve into the metrics of evaluating the impact of an event on a cultural, and even emotional scale. Many organisations strive to make a genuine impact on people's lives, whether it be through learning, participating, or simply experiencing programs – this is where selecting dimension statements to illustrate this impact come in.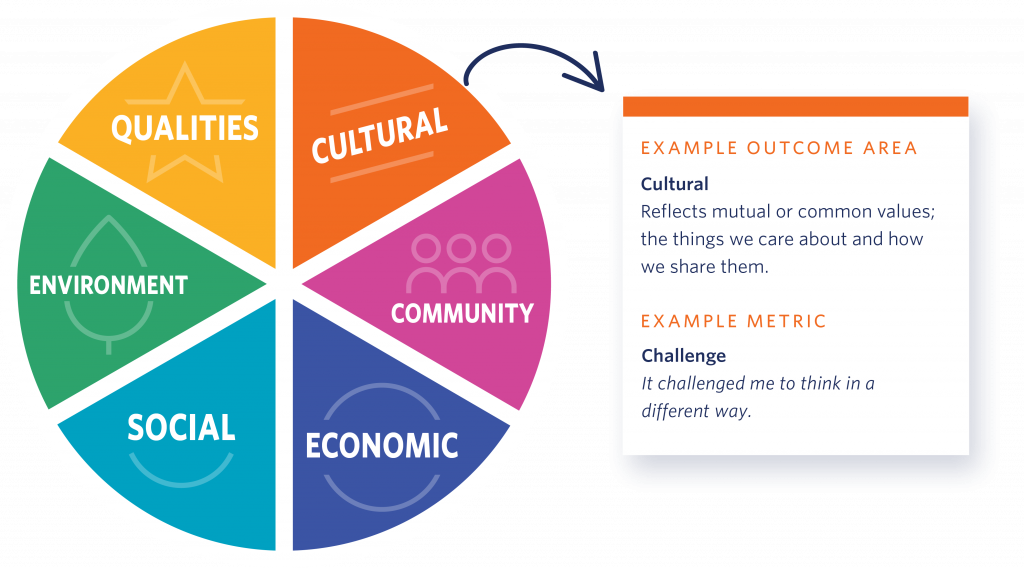 This blog post will demonstrate how to use these dimension statements to your advantage in the evaluation process. You can also find out more about our Dimension Selector feature here.
Basic Checklist
Below is a basic set of steps that will set you up for success when it comes to using dimensions. For a more in-depth approach, visit the Six Step Evaluation Process.
Understanding outcomes and why they are measured

Identifying relevant outcomes for your strategic goals

Selecting a core set of dimensions

Analysing the data & closing the feedback loop
Understanding outcomes and why they are measured
One of the main questions we get from our clients in the initial stages of evaluation planning is 'why use dimensions?' While they aren't compulsory, they are a great way of getting a 360-degree review of an event, program or organisation. Ticket sale revenue or attendance numbers don't give insight into the impact the experience had on a respondent. We want to measure how people felt coming away from an experience, additional to anecdotal feedback. Anecdotes are immensely informative but cannot be used for deeper data analysis.
Our academically-validated dimension statements fit within an umbrella of domains and the list of statements themselves is extensive. There is a statement to fit most verticals, from Arts & Culture to Local Government to Libraries. Each statement is standardised, and you can be confident that you are contributing to a larger dataset that will allow for benchmarking.
Identifying relevant outcomes for your strategic goals
Aligning the dimension statements to your strategic goals is imperative. The time you take in the initial stages of planning to select a shortlist of dimensions will make a massive difference in the final product, whether that be a full-blown report or just some handy charts to send to stakeholders to demonstrate your value.
An easy way to collate a list of dimensions to use is to create a strategic alignment. Take the pillars of your organisation's strategic plan or goals and select which dimensions most closely relate to that pillar. We recommend a list of 6-8 dimensions per survey.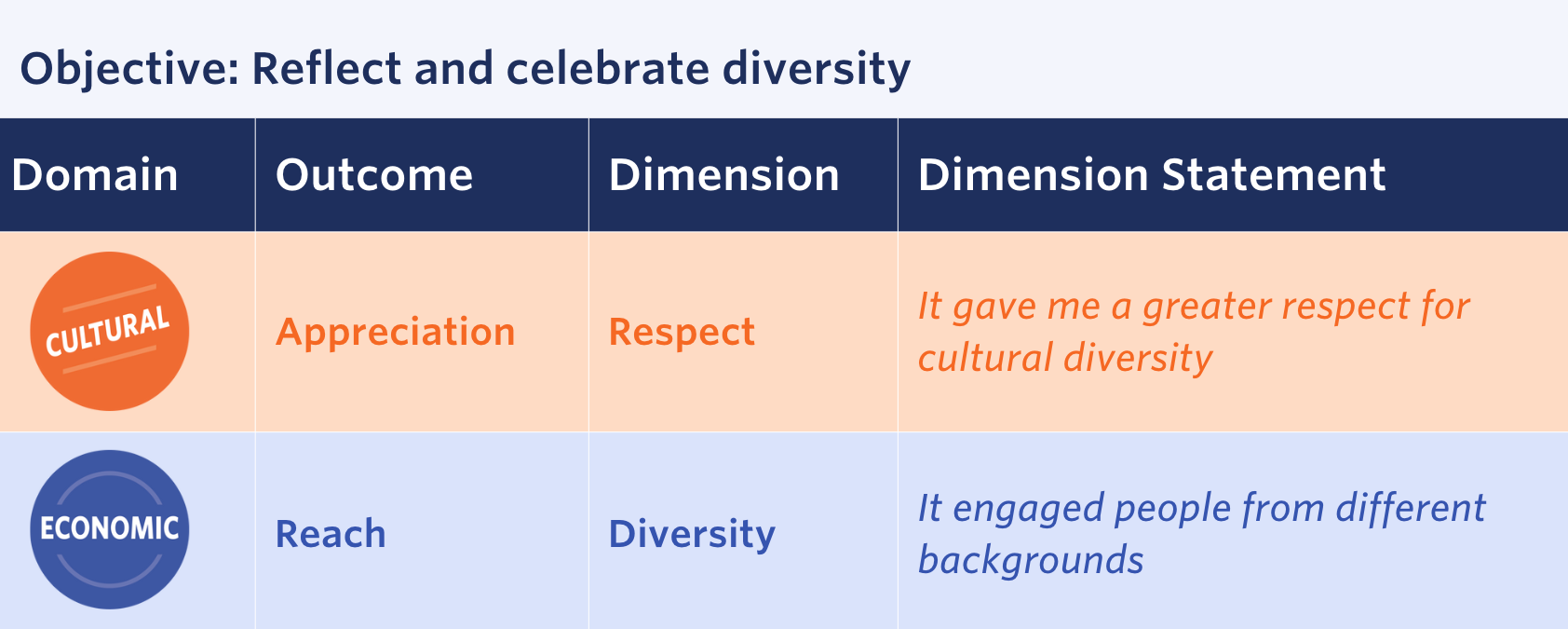 Selecting a core set of dimensions
This step is helpful to maintain consistency in reporting. Once you have settled on a shortlist of 6-8, templatise the survey and use those dimensions across multiple evaluations and years. An organisation's strategic plan often spans many years, so the ability to benchmark results is paramount.
To read more about why consistency is important, click here.
Analysing the data and closing the feedback loop
Dimensions are helpful in demonstrating where within the attendee or participant experience you are thriving, and where there may be room for improvement. The ways in which our dimension statements are charted offer deeper insight into the responses, such as interquartile range and the stacked level of agreement. For example, the interquartile range visualises the spread of responses – if the range is wide, respondents were less likely to agree with the statement.
The diversity of dimension statements available is also helpful in painting a picture of what respondents thought of particular aspects of their experience. For example, if the average score for Diversity: It engaged people from different backgrounds was high, but Heritage: It made me feel connected to a shared history/culture was low, it may spark a discussion about ways to improve how those different backgrounds are acknowledged in an insightful and impactful way.
---